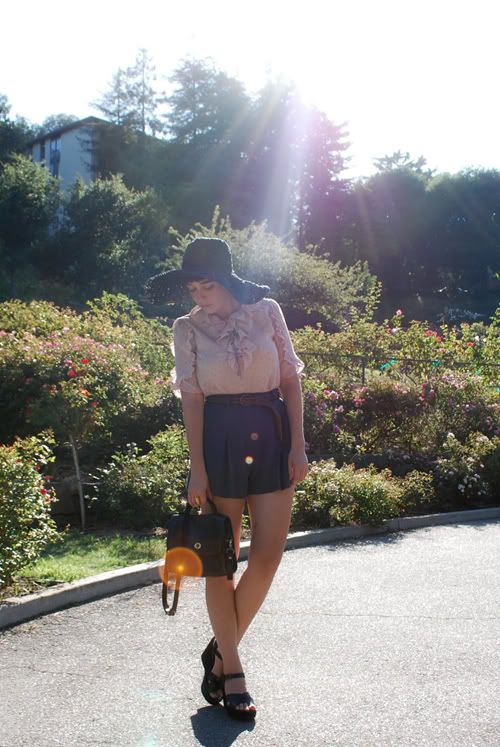 you see what i did there with the title?
hat
lady. instead of cat lady. get it? yeah… it's funny because as obsessed as i am with hats, i really don't have that many. several months back, i went pretty hat crazy and bought a ton of vintage hats, but i ended up hating most of them and just having no occasion to wear the rest of them. such was the case with this big floppy woven hat that i got from pac sun months ago. when it arrived in the mail, i instantly laughed and tossed it aside. like i'd ever wear
that
, i said. for whatever reason, i've just never been into floppy hats. but then i styled up this outfit with the sort of romantic ruffles and muted colors and i kept thinking that the whole thing just needed something. and i directed my gaze over to the hook where this hat had been hanging all by itself in the corner of the room, and well, it just worked. i think i would prefer this to be felt, but the loose weave is probably more seasonably appropriate. so that's the story of how i got dressed today! in case you were wondering.and then me and the boy went for a stroll to a regular spot: the morcom rose garden by my house. we got there as the sun was setting behind the trees, so we got to play around with the light in the photos for a while, before strolling back over to the grocery store to pick up burrito supplies and cheap beer coz reality hit, and we're both kinda broke right now! and honestly, i can't think of anything cheaper than beans and rice! i have to say that i'm quite thankful that my grandma and my mom taught me how to cook good, cheap food. in fact, i've been meaning to share some good recipes with you guys, but i'll have to borrow a kitchen from someone for photos because ours is just teeny tiny with really bad lighting. but hopefully maybe i'll get something for you real soon!
blouse: loft ruffle blouse
shorts: ever tap shorts from gilt groupe
sandals: kork-ease bette wedges
hat: quicksilver woven floppy hat
belt: thrifted vintage braided belt
purse: thrifted vintage coach satchel
ring: marika king lace ring