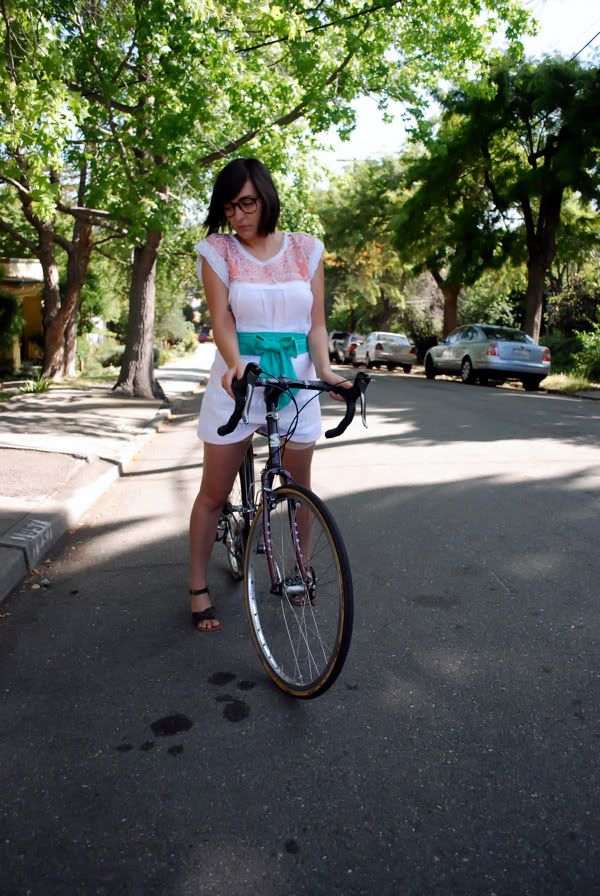 so i spend a lot of time talking about fashion. i guess that's what this blog is all about. but let me tell you about another secret passion: cycling. seriously, i cannot express to you how much i love to go on long, long bike rides. but i never post those pictures here, because my little bike shorts just aren't that fashionable.
BUT when i go on shorter rides, i actually try to look half-way decent while doing it, because you know, i'm not out in the middle of the lost coast, where no soul will see me. i'm passing by the grocery store, and riding down cute little streets with people sitting outside of cafes. you get the picture. so i've got a pretty good formula for bike riding outfits that consists of a cute little mini dress, bike shorts, and sandals. easy as pie.
but the sad part about my bike-loving ways is that i'm really picky about bikes. and thus, the only thing i have to ride around on right now, is my really fancy-shmancy surly long haul trucker with shimano 105 parts and other fancy-shmancy parts, but i'll spare you the details because i have a feeling you wont care. and as nice as this bike is (and as proud as i am to have it) it's not really the type of bike that you take on a ride about town. i want a pashly! oh, but i certainly don't have that kind of money right now, even if i sold my whole wardrobe. which, seriously, that's basically what i've been doing lately anyways! ha!