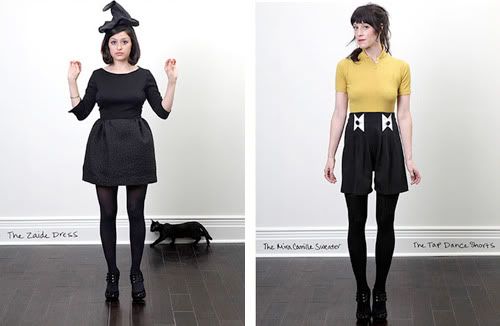 so you may recall this post about some of my favorite fall inspiration, in which i confessed my infatuation with the lovely alia shawkat dressed in a little witches outfit, my love for those vintage-inspired shorts, and all things gothic. so with halloween winding down, and the festivities behind us, i got to remembering said collection, only to discover that rachel antonoff has released her spring 2010 lookbook on facebook. i discovered this after reading a lovely post about it over at liebemarlene vintage, and i just had to write about it here because i am in love with her latest collection!
as you know, i love simple, wearable pieces with pretty little details in mostly neutral colors. looking back through my past several outfit posts, i noticed that i've been wearing a lot of cream, brown, black, and white so this collection is right up my alley! i seriously wish i could have every single piece! and i just love that the collection doesn't scream spring, so if you were to invest in a few pieces, you could get a lot of wear out of them throughout the seasons.

and i can totally get down with the pretty little ballerina slippers. d.i.y., anyone? they've got really inexpensive slippers at payless right now. add a contrasting ribbon and voila!