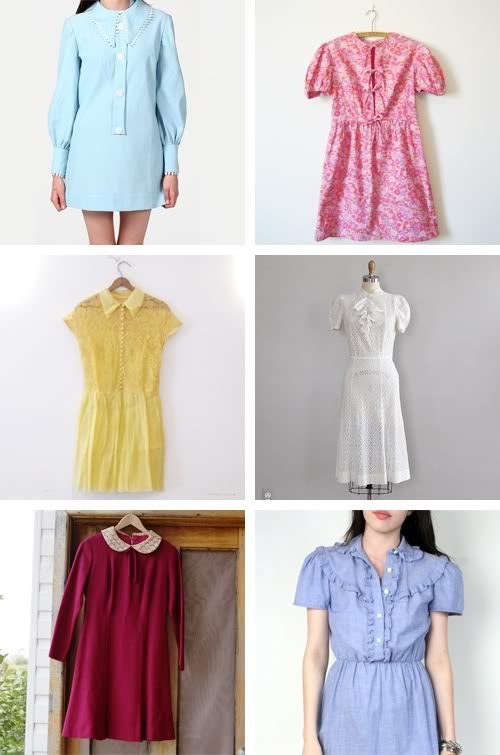 now, before you get too worked up, i'll have you know that these are not recent purchases. these are just a few of the dresses that have caught my eye on etsy lately, but that either didn't fit or else sold before i mustered up the strength to click the "commit to buy" button. and i thought it might be a good way to illustrate two points: one, i have an etsy addiction and i spend entirely too much time browsing through hundreds of vintage dresses, sweaters, shoes, and accessories. and two, this is an example of how challenging vintage shopping can be!
i've gotten quite a few questions asking how i manage to find great vintage clothes. it's always a difficult question for me to answer because there isn't really a good answer for it. all i can say is that it takes dedication and the willingness to dig through piles and piles and racks and racks of clothes at vintage and thrift shops. or else a daily obsession with checking all of the new etsy or ebay listings, reviewing the measurements and squinting at the computer screen trying to tell if that spot you see is a shadow or a stain. and it means finding an awful lot of amazing, mind-blowing, life-altering pieces that just aren't your size.
so now, if you haven't already been bit by the vintage bug, you're probably wondering how it's worth it. it kinda sounds miserable, no? but that's the thing. if you're anything like me, then you know the exhilaration of digging up a beautiful gem at the bottom of a pile of weird paisley polyester maxi dresses at an estate sale on a saturday morning at 6am. it's the thrill of the hunt and that tiny inkling that you might come across the holy grail of vintage, no matter how many times you've walked away from a sale empty handed.
go look: baby blue dress from oldage, pink floral mini from littlebeevintage, yellow lace mini from croatiavintage, white eyelet dress from deargolden, raspberry dress from raspberrymacaroon, chambray dress from santokivintage