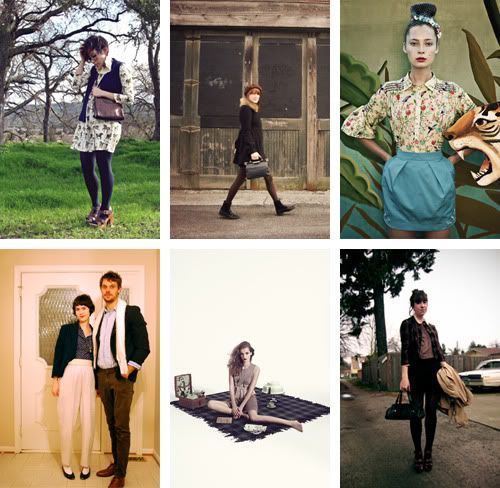 you may have noticed that for the past two weeks, i took a break from blogging on the weekends. i thought that it would be liberating to give myself some days off, but i was eventually overtaken with this nagging anxiety to keep posting every day. while i will not be doing outfit posts on the weekends, i have found a happy medium in the form of two new features: saturdays will be link roundups where i show you some of my favorite blog posts of the week, and the following day will be street style sunday, where i showcase my favorite street style looks of the week. (i got the street style sunday idea from dear sara elise of
style magne
t
, though i don't know if it's a "thing" out there in the blogging/tumblr world. you know, like music mondays and gpoyw, etc…)
anyway. now that we're done with the intro, i give you my favorite links of the week:
darling darling: equus
diane wears the coolest thrift score i have seen in a long while. epic dress with all over horse print!
sally jane vintage: but life is both a major and minor key…
i'm head over heels for the warm colors in this perfectly styled look. that polka dot blouse is such a great vintage find!
the clothes horse: my father's dragon
rebecca introduces us to the amazing set designs of studio toogood. and as she states, the name is apt.
red lips vintage: the look for less, couple incognito
rachel and her bf put together a smashing outfit based on a streetstyle pic. bonus: you can enter a giveaway to win her outfit!
fashion gone rogue: picnic for one
this photo by karen collins reminds me that i've been meaning to plan an indoor picnic before the winter is over. i'm thinking bbq, potato salad, and a cold beer.
clever nettle: dead leaves and dirty ground
anja mixes stripes and plaid in the prettiest color combo ever. i adore her look!