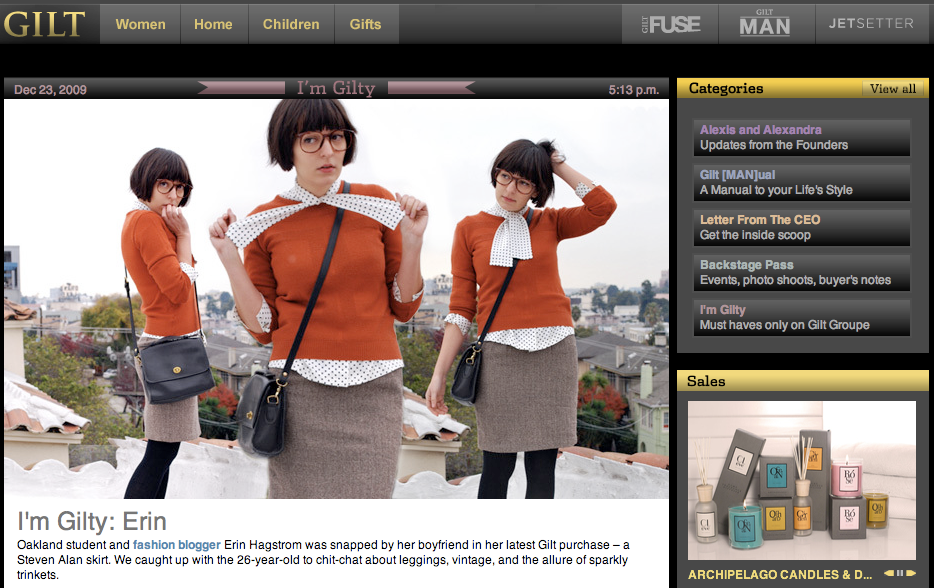 hi guys! i'm not quite back from my vacation, but i finally got the chance to stop in for a moment to tell you about my feature on the gilt groupe blog wearing a wool herringbone steven alan skirt from gilt. they were kind enough to call me up and do a little phone interview about my thoughts on shopping and style, so you should definitely check it out! i am such a huge fan of that website that i have to keep my browsing to a minimum just to protect my poor wallet! and if you aren't a member of the site, you can sign up with my invite code to gain access. such good sales!
in other news, i'm still in southern california with family, sans internet connection most of the time. i promise to answer all of your emails and inquiries as soon as i get back on dec. 30th! but for now, i'm going to go on a little field trip to remix vintage shoes in l.a.! if you haven't heard about them, i highly recommend that you check out their website. they have the most incredible selection of vintage repro shoes ever. i guess i know where my christmas money is going…
ok, i'll be back soon and i hope you're all having a nice holiday!